DxOMark has published its results of its sensor testing for the flagship Nikon Z7 II mirrorless camera, and not surprisingly, it has managed to claim a higher score than its predecessor.
The Z7 II achieves a DxOMark score of 100, a slight improvement over the Z7's score of 99. This puts the new mirrorless system from Nikon in a joint-first-place in the company's sensor rankings with cameras like the Panasonic Lumix DC-S1R, Nikon D850, and just behind the two medium-format systems at the top of DxOMark's database: the Pentax 645Z and Hasselblad X1D-50c.
"With a score of 100, it shares the top spot of our database for Full-Frame cameras, showing excellent results in dynamic range and color depth. It is the top rank Nikon sensor of our database, together with the D850," DxOMark writes.
The Nikon Z7 II sensor shows it has a class-leading maximum dynamic range, (14.7EV), and color depth, (26.3bits), as well as very strong low-light ISO performance while maintaining the 45.7 MP BSI CMOS full-frame sensor from the original. All of which are strong improvements over its predecessor, showing that Nikon took all the critical remarks and reviews of the first generation mirrorless system to heart — this includes the addition of the 2nd memory card slot and the ability to add/use a vertical grip. While these improvements may be minor on their own, cumulatively they add up to an impressive device worthy of the flagship moniker.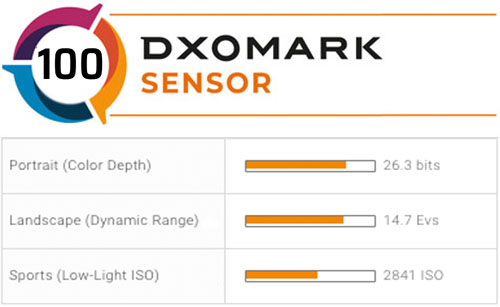 This isn't implying that the Z7 wasn't a great system already. Given its score of 99, the additional changes made to the Z7 II were just icing on the cake. The additional Expeed 6 processor (the camera has two), an increased buffer, improved autofocus, and additional burst fire rate also add to the number of reasons the Z7 II impresses.
The DxO team compared the Z7 II directly against its predecessor as well as the Sony a7R IV and Canon EOS R5 in a series of tests including portraiture, landscape, and low-light action (sport) settings to determine the above scores. Where the portrait settings are pretty much identical, the Z7 II showed improvements in the Dynamic Range setting and Low-Light ISO challenges.
To see the specifics on how the Nikon Z7 II faired against the Sony a7R IV, Nikon D850, Panasonic Lumix DC-S1R, and its Medium Format competition, read the full review at Dx0Mark.